It is our pleasure to inform you that we will be introducing the AutoFry and the Fusion on the Internorga, the leading foodservice exhibition in Germany.
You can find us at the booth A3, 204 from March 14 -19 in Hamburg.
It will be our pleasure to welcome you to our booth where in co-operation with leading food suppliers we will demonstrate the AutoFry and the Fusion; The Open Combi Hot&Cold display.
With the AutoFry we will show you the wide variety of popular snacks and fries you can prepare in a fast, save and ventless way.
The Fusion will be displaying a range of different heated and refrigerated products to show you the possibilities to offer your customers a combined impulse snack to a complete Hot & Cold meal.
Both unique products are new innovations that will offer opportunities for operators in the Foodservice, Supermarkets and Petrol.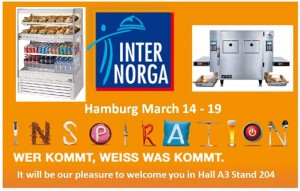 AutoFry
Bistro
Convenience stores
food on the go
Food retail
Food to go
Foodkonzept
French fries
Frietmachine
Frittieren
Grab & Go
Hamburg
Ihr Spezialist für Speisenproduktion
Individuelle Konzepte
Internorga
passende Lösung
Petrol
Pommes
Systemgastronomie
tankstellen
Theken